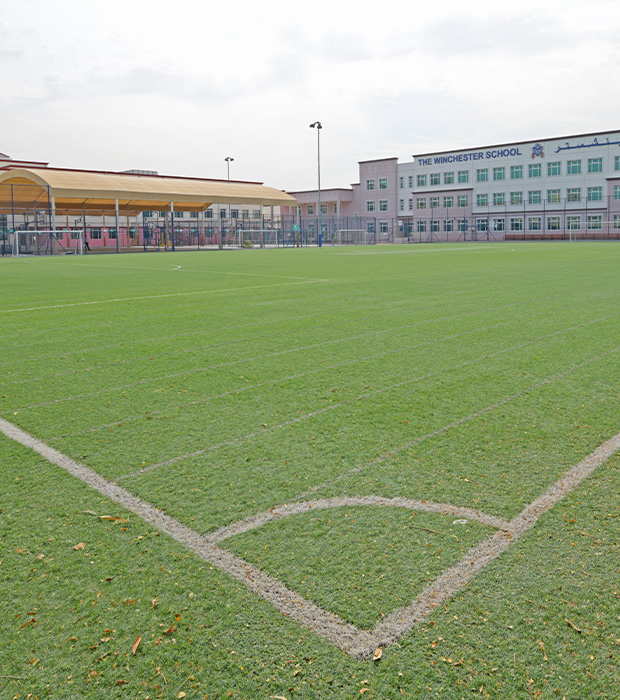 Facilities
General School Facilities
Class Rooms
All the Class rooms are equipped with interactive LED screens. Internet connection is available in all the class rooms. ICT is a key component in lesson delivery. All Primary and Secondary class rooms are equipped with lockers to store books and bags (No trolley bags are allowed).
Multi-purpose Auditorium
The spacious state-of-the-art, air-conditioned, multi-purpose auditorium is a superb indoor facility for students to play numerous indoor games as well as develop their public speaking and theatrical talents all through the year.
Sports Fields
In addition to a large multi-purpose auditorium, The School has a variety of sports fields to encourage specialized learning in different outdoor games. The outdoors and indoors sports fields have been refurbished with new sports flooring to maximise the sporting experience with optimum health and safety.
Music and Art & Craft Rooms
The School believes in bringing out the creative best in its pupils. Well-equipped Art & Craft and Music Rooms promote encouragement and support for talented young artists and musicians in every age - group, while encouraging everyone to develop these skills. Art Cafes – Carte Blanche areas– led by students, are available in Primary and Secondary buildings to encourage free art expression and development.
Science Laboratories
The School provides well-equipped Science Laboratories to encourage the practical application of the science subjects, in both the primary and secondary sections.
Computer Laboratories
The School has Six Computer Laboratories with the internet connection and multi-media facilities. ICT is a compulsory component of the curriculum up to Year 9. ICT & Computing are offered as optional subjects from Year 10 to 13.
Library
The School has two well-resourced libraries stocked with books, periodicals and a variety of other resources catering to all age groups. A love of reading is encouraged from a very young age, as an independent way to enjoy learning and to gain knowledge.
Steam Cafes
The School has two STEAM Cafes, one each in Primary and Secondary, equipped with the latest technology like LEGO, Robotics, 3D Printers and Doodlers. STEAM is an integral part of the curriculum across the school with dedicated lessons in the STEAM café from Year 4 to Year 9 as well as the incorporation of STEAM in lessons in most subjects across all year groups.
BTEC Lab
The school has one BTEC lab equipped with latest computers. BTEC is a career-based qualification designed to give students the skills they need to move on to higher education. BTEC develops a range of practical knowledge and skills, which help learners to prepare for life skills and progress in their chosen career.
More employers and Higher Education institutions than ever before are choosing BTEC-qualified candidates for their academic and practical knowledge and skills

BTEC is a two-year programme and is designed to be of the similar level of demand to A levels.
At Winchester School, we offer the following 3 subjects
BTEC National level 3 Diploma in Information technology
BTEC National level 3 Diploma in Business Studies
BTEC National level 3 Diploma in Applied Science


BTEC qualifications have been designed to help build critical and transferable skills that will help the student to succeed in the workplace and develop their career. Enhanced specification content help students to develop their practical and application skills.
Food and Nutrition
The school has one Food and Nutrition lab equipped with modern amenities. Food and nutrition are offered as an IGCSE subject. It is a two-year course. Students are encouraged to develop their culinary skills through break time club and after-school activities.
3D Room
The School has a dedicated 3D room with a 3D projector and 3D glasses to view educational 3D videos for Science and Mathematics for Primary and Secondary from EUREKA by Designmate.
Air-conditioned Play Area for Foundation Stage
Air-conditioned play area for the Foundation Stage students provides a safe and secure environment for physical activity all through the year.
Outdoor Covered Play Areas
There are outdoor covered play areas too for the older students as well as for the Foundation Stage students.
School Transport
The School has a fleet of air-conditioned buses. This facility is provided to help students reach school in comfort. The bus routes cover all parts of Dubai.
Medical Care
The school has two well - equipped infirmary with two permanent doctors and four nurses. All cases of injury or illness receive preliminary medical attention. All students receive a regular medical check-up, Dental check-ups and our infirmary work in close conjunction with the Government of Dubai, Department of Health and Medical Services, Primary Health Care Section.
The School Store
Prescribed textbooks, workbooks and stationery are available at the School store.
School Uniforms
A School Uniform helps in creating a certain identity with the school. Students wear their uniforms with great pride. The Uniform is simple but smart and distinctive. Please visit Threads warehouse in Times Square to purchase any Winchester Uniform.
We do not allow trolley bags as they are a Health & Safety concern. They are heavy even when empty, children have to pull them with one hand and it impacts strenuously on that hand when they pull them and also has an extra strain on the hand on the stairs. It creates noise and also jerks the hands as they carry them. It is very unsafe when children walk around in the very busy morning and end of day timings, this leads to tripping and falling hazards.
School Canteen
Slices Catering
The Winchester School is proud to partner with Slices, our school food provider. Slices is a home-grown real food company, aimed at transforming eating habits of the next generation across the UAE through providing fresh, wholesome and nutritious meals.
In collaboration with Slices, The Winchester School is committed to ensuring that healthy and tasty meals are offered to our students. A cashless system is also implemented.
Parents can top up and view consumption through GEMS Parent Portal https://oasis.gemseducation.com
Any queries can be directed to the customer service team at Slices [email protected]
There will be no website to order classroom delivery meal and it will only be done via email or whatsapp. Incase of an urgent meal delivery which is not pre ordered, Slices Person In-Charge can inform you of the option of food available on that day. For any inquiry, please contact:
Email: [email protected]
Contact No. 971 50 504 5243
Slices Cashless System
As parents, we all understand that our number one priority is our child's happiness and performance at school. With Slices being your child's school food provider, our aim is to supply each student with a Slices Card to be used instead of cash to purchase their daily school meals. Parents can register online and top up their child's account to enable them to start using their Slices Card. Every time the card is presented at a till, the balance is displayed and this lets students know how much money they have available. Parents can top up from any PC, tablet or mobile device that has an internet connection and follow the simple instructions to add funds to your child's Slices Card.
Please register for your child's card https://pay.slices.ae/
Science & Technology Facilities
At The Winchester School, our science and technology facilities have been designed to meet today's needs. It is through this that our students are continuously learning and discovering new interests, skills and abilities.
We provide our students with:
Science laboratories (well-equipped, and available in both the Primary School and the High School)
Computer laboratories (6 computer laboratories, with multimedia facilities and internet access)
We encourage you to view your child's school-level curriculum-page to find out more about whether ICT will be a mandatory part of their academic requirements.
Sports Facilities
As part of our ongoing effort to encourage students to be mentally and physically active, we provide a range of sports facilities, so each student can enjoy a healthy school-life.
We provide our students with:
Specialised sports fields (our various sports fields allow our students to learn and participate in a number of outdoor games/sports)
Outdoor covered play areas (available in the Primary School and the High School)
Air-conditioned play area (for Foundation Stage (FS1 and FS2) students