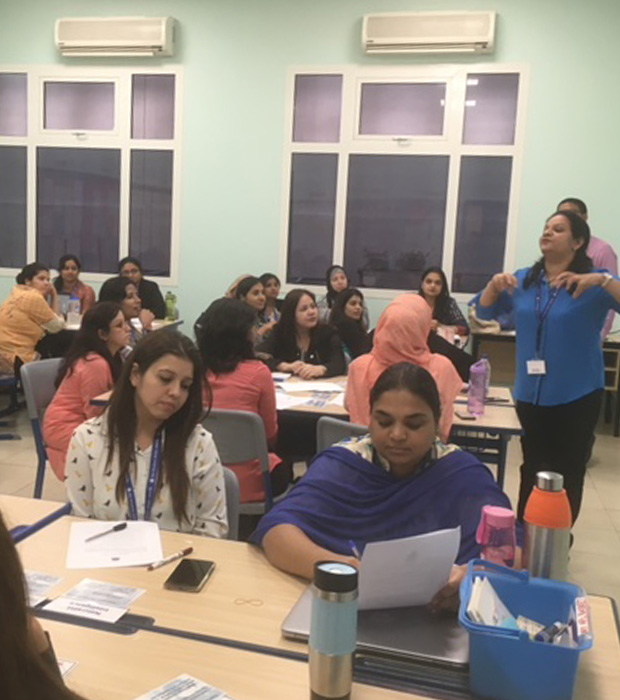 Professional Development
The aim of The Winchester School's professional development is to provide specialized training in the latest pedagogy and classroom practices for educators to further develop their professional knowledge, competence, skill, and effectiveness.
Bespoke Professional Development
The Winchester School provides bespoke training for all its staff to ensure that the professional needs of every staff is met and they are equipped to meet the learning needs of every student thus raising the standards of pupil achievement.
At the beginning of every term a skills audit is done for all staff, and the PD calendar is planned based on the need of staff that is identified through the skills audit, lesson observations and the latest trends in education.
All staff are required to attend professional development training once a week and it can extend to twice a week as the need arises.
Sharing of outstanding practices is a common feature at The Winchester School. Professional development sessions or training are conducted by Senior Leaders, Middle Leaders, Outstanding practitioners as well as trainers from other GEMS schools and TELLAL.
All teachers are enthusiastic to share the outstanding practices they have in their classroom and inviting teachers to observe them is a norm.
Peer observation, team teaching and modeling of lessons is an intrinsic part of the school and we ensure that each teacher has had the opportunity to observe outstanding practices in their year groups/departments, across year groups and departments as well as across phases.
The teachers fill a key take away form after each professional development session and the impact of these sessions are monitored through lesson observations and appraisals.
New teachers are supported through a comprehensive induction programme and are also given outstanding teachers as buddies.
Bespoke Leadership Training
Professional development of teachers includes leadership training. The Winchester School in association with Teacher Learning and Leadership for All (TELLAL) provides a three-tier leadership training for aspiring leaders. Teachers are trained on topics such as Team Dynamics, Effective Observation and Feedback, Data for Self-Evaluation and Improvement Planning and Embedding Accountability. At the end of the course, all leaders are expected to create a portfolio as evidence of impact. This is presented to the Senior Leadership Team and they are awarded a certificate upon successful completion of the course and portfolio presentation. We are very proud to acknowledge that all our leaders have completed these course at different levels. We are also very proud that our entire leadership team is from our own pool of trained leaders.
Professional Development through Networking
The Winchester school extends the learning and development of all its staff through different networking groups. Teachers attend GEMS Network meetings for different subjects and then cascade the learning in the respective year groups/departments. Our teachers are also part of learning networks outside GEMS such as the SENCO and Dubai Inclusion Network. Our teachers and leaders also attend professional development session with IRD- Innovation, Research and Development to further embed innovative practices in the classroom. Every year our leaders and teachers attend the Global Education Skills Forum to be updated about the latest in pedagogy as well as classroom practices.
GEMS Professional Workshops in association with TELLAL
Our teachers are given the opportunity to share their outstanding practices with other schools in GEMS by conducting professional development workshops through TELLAL. The teachers go through a rigorous training- "Train the Trainer" where they are coached on how to deliver effective PD workshops. Upon successful completion of this course, they are certified as trainers for TELLAL.
The Winchester School has 12 certified trainers who have led various trainings such as Effective collaboration in the classroom, Creative Skills in Action for Young Learners, Steaming up your lessons, Learning Menu's for Effective Differentiation, One Note, Integration of UAE Social Studies into the curriculum, Collaborative in Classroom using ICT Tools, Integration of UAE Social Studies into the curriculum, Ted Ed Lessons and Differentiation for inclusion.
These trainings have been highly appreciated and the trainers follow up with the participants to measure the impact of their training.
Cambridge International Certificate in Teaching and Learning
The Winchester School conducts Cambridge Professional Development Qualifications (PDQs) to provide a strong framework to support the effective continuing professional development of teachers and leaders.
They help teachers and leaders to:
Engage critically with relevant concepts, principles, theories and international best practices
Apply new ideas and approaches in reflective practice in their own teaching and learning context
Evaluate experiences and outcomes to plan further development
Improve the quality of their teaching and leadership to enhance the quality of their learners' learning.
This programme has been in inception from 2012 and every year we have a cohort of teachers who are enrolled in this programme.
Cambridge International Examination - Training
Our secondary teachers attend regular face to face as well as online professional development courses offered by Cambridge International Examinations for the subjects they teach.
Curriculum Development Group
The school has a curriculum development group which comprises of teachers from every year group and department. The aim of the CDG is to develop action research projects based on the analysis of gaps found in the curriculum. Each year group and department chooses a topic for action research based on the analysis of the results and schemes of work. Once the action research is conducted, the findings are then analysed and if required changes are made to the schemes of work. This is an excellent form of professional development for our staff as they are encouraged to take risks and find solutions.
The celebration of achievements and outstanding practices
Outstanding practices are regularly shared and celebrated by the Senior Leadership Team. Awards and certificate of appreciation are given to staff. At the end of the academic year, a PD celebration afternoon is held, where staff are recognized and appreciated for their contribution towards the outstanding learning opportunities provided to the students. All those teachers who have contributed to the sharing of good practices by leading professional development sessions are also appreciated and facilitated.
Key Features of The Winchester School's PD Programme
Comprehensive Induction Programme for new staff.
Bespoke training provided based on the needs of the teachers and curriculum.
Sharing of outstanding practices through peer observations, team teaching and modelling of lessons.
Bespoke Leadership training for potential leaders.
Curriculum Development group that conducts action research.
Celebrations of achievements and outstanding practices.
Ample opportunity to network to further embed practices
Opportunity for further professional development through Cambridge International Certificate courses.
Opportunities for professional development by attending courses from Cambridge International Examinations.
PD Structure
Bespoke professional development sessions led by Senior leaders, Middle leaders and outstanding teachers.
Peer observations, team teaching and modelling of lessons to further share and embed practices.
Teachers to incorporate new learning into their lessons
Middle leaders and Senior leaders to measure the impact of PD through lessons observations and appraisals.
Visit our PD website for more details: www.sites.google.com/site/winchestercpd
Elizabeth Jacob
Head of Professional Learning & Development
Professional Development Calendar