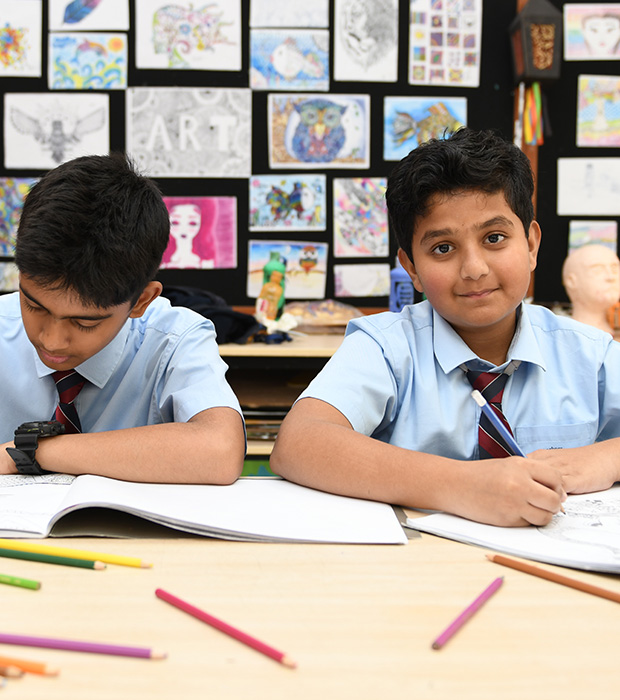 Key Stage 2
Years 3 to 6
Key Stage 2 encompasses Year 3 to Year 6. Students get introduced to the analytical process and through individual and group projects, as well as pursuing the carefully planned and balanced curriculum, start to rationalise and think independently. The curriculum sets challenging targets and yet, its methodical implementation encourages each student to pursue individual targets and goals.
This is the stage of enhanced learning, evolving and growing, physically, intellectually and emotionally. Academic and non-academic pursuits begin to complement each other very noticeably and the school's philosophy remains committed to nurturing and valuing each student's talents.
These are the years during which the students strengthen their foundation in Academics and are prepared for the challenges of advanced study in Key Stage 3 and 4.
The increased emphasis on extra-curricular activities further encourages initiative, innovations and development of talent in personal areas of interest. The foundation subjects at this stage contribute towards the creative development of the student. Apart from aiding children's physical development, Physical Education teaches the discipline of the mind and body, while Art contributes to the learning of presentation and creativity skills. Music inculcates knowledge of harmony.
Public Speaking, Drama and Elocution aid in the expressive capability of the student, especially incorrect pronunciation and intonation in the languages spoken. They also aid in the development of confidence, preparing students to ultimately face the challenges of the professional world.
Core Subjects
Islamic Education (Arabs and Non- Arabs)
Arabic for Arabs
Arabic for Non-Arabs
English
Mathematics
Science
Humanities (History and Geography)
UAE Social Studies
Moral Education
French (Year 5 & 6)
Personal Social Health Citizenship Economic Education (PSHCEE)
Information and Communication Technology (ICT)
Physical Education (PE)
Music
Art