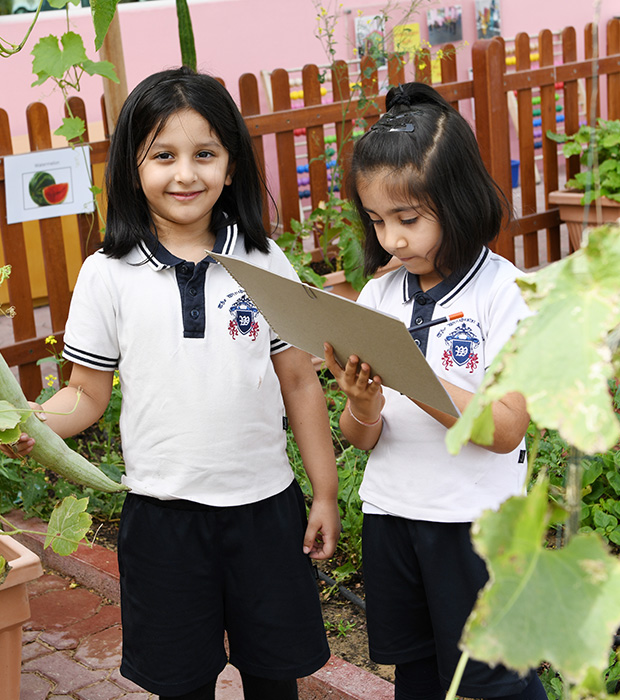 Admissions Process
How to begin your child's journey
The Winchester School, Jebel Ali is an inclusive school. The GEMS vision for Inclusive Education is that we achieve excellence together by all students receiving the support they need to meaningfully belong to their school and wider community, feel valued for their contributions, engage purposefully in learning and experience academic, cultural, social and emotional success in a common learning environment.
At The Winchester School, Jebel Ali we welcome children with a range of learning preferences, including students of determination (students with special education needs and disabilities), students who are gifted and talented and students who are English Language Learners. Our staff are committed to educating all students in a common learning environment with similar-aged peers. At The Winchester School, Jebel Ali diversity is made visible as a strength, respectful relationships are continually enhanced and all children fully participate in learning through adjustments and teaching strategies tailored to meet the diverse range of learners reflected in wider society.
Application and Enquiry for the Academic Year 2023-2024 September, is open.
Admissions to classes depends on available spaces after reenrollment process is completed. Siblings in the school get priority on the waiting list. Once you have completed the payment of applications fees for registration, your child's name is placed on the waiting list upon payment of application fee. There is no entrance test but an age-related placement assessment is conducted followed by meet and greet. For FS1 and FS2 all children must be toilet trained completely and should be able to hold simple age-related conversation. We request parents to submit their child's previous school reports and CAT 4 or any other reports that will enable the school to support their child and continue the learning. We expect parents to share reports if any additional support is required, educational psychologist report, English language support report, Individual Education Plans, medical report for any additional support.
Online Enquiry for GEMS Students
If you are an existing GEMS parent, please ensure you enter your child's fee ID and contact the school Registration department.
School Tours
Bespoke tours of School are conducted on weekdays.

To schedule a tour, please fill the form here or contact the School on 04-8820444 to book a convenient date. If you are not able to complete the enquiry, please visit the school 10 minutes prior to the tour to fill the online form. Due to high demand, please book at least two weeks in advance for a tour.
Visiting hours for school is between 7:30 am to 4:00 pm with appointments from Monday to Thursday and 7:30 am to 1: 00 pm on Friday.
Due to congestion of traffic it is best to avoid dispersal timings of 12:00 pm to 12:30 pm and 1:45 pm to 2:30 pm from Monday to Thursday and 11:00 am to 12:00 pm on Friday.
Please note that Application Fee is AED 525, this is not deductible and non–refundable if the school has not declined the application. The application fee is valid only for a year.
Steps to follow for Admission
Complete the online Application form.
Upload all documents online which is mandatory for admission contact the admission team
Meet and greet with a member of the leadership team and Medical team.

When an offer of a seat in the school is extended, an admission fee which is 10% of the total fees of that year group is needed to secure the seat, payable by cash or credit card.
Placement Test
The Winchester School prides itself on an admission policy that does not discriminate against any child or family. All children are welcome to apply to The Winchester School, regardless of nationality, ethnicity or religion.
The Winchester School is a truly international institution. The Winchester School is a fully inclusive school, however their may be limited spaces for children with additional learning needs in some year groups.
Each child must take an age-appropriate placement test to ensure that the children are rightly placed and supported for the high-quality education on offer at The Winchester School.
For Entry into Foundation stage :
We use play based assessment, screening the emotional, social, physical and communication skills of the child for school readiness.
School readiness is essential for development and determines a child's future outcomes so promoting these skills as early as possible is the best way to ensure smooth start and readiness for school to succeed.
Some of the expected characteristics that should be displayed by a child to show age appropriate school readiness for foundation stage;
Independent in toileting

Able to dress themselves

Understands expected levels of

behavior

Confidence and self-esteem

Can take turns and share

Can sit still for a short period

Can separate from parents/care givers

Communication and language skills needed to communicate needs and listen to others

Can actively learn and creatively and critically think
School readiness:
✔ Children should be prepared to be separated from their parent or main care giver.
✔ Children should be able to clearly demonstrate their ability to listen and follow age appropriate instructions
✔ Children should show an interest in a variety of subjects, paying attention to the subject or activity they are taking part in
✔ Children should have enough of a range of vocabulary and language to express their needs, feelings, thoughts or ideas
✔ Children should be able to identify themselves by name, age, state factors in their life, name family members etc.
✔ To be able to interact in an age appropriate way with another child or adult
✔ Children should be able to interact, share and play, taking responsibility for their actions, understanding repercussions for their actions
✔ Focus on and also show interest in the work they are undertaking
✔ To be able to observe, notice, discuss and ask questions about their environment and experiences
✔ To be able to engage with books, have some understanding of words and language
✔ Respond to boundary setting
✔ Vocalize their needs such as toileting, thirst, hunger illness etc.
Required Documents
1 copy of Valid Residence Visa and Passport of the Student/s and both Parents.
Original Emirates ID of Student and both Parents to scan in front of school official.
Copy of Emirates ID of Student and Sponsor.
4 recent passport-size photographs of the Student.
1 copy of the Student's Birth Certificate.
1 copy of the Student's Vaccination Card.
1 copy of the original mark sheet/report of the previous year's report or the last examination passed at the previous school.
Original Transfer Certificate for transfer from within Dubai/other Emirate. (Duly attested by the Educational Authority concerned).
In the case of overseas transfer, the Original Transfer Certificate should also be duly attested by:
District Ministry Education Officer of the concerned district.
Ministry of Foreign Affairs in the country from which migrating.
UAE Embassy in the country from which migrating.
Consulate of the Concerned country in Dubai
- Please note (Attestation is not required for UK, US, Canada, Australia and Europe)
Recommendation letter from the Supervisor/Principal of the previous school.
Record of attendance of past one year from previous school.
Medical documents in case of any medical needs like allergies, asthmas.
Specialists reports in case of any Special Educational Needs.
Please share full details of any special educational needs, individual education plans (IEPs) and any Educational Psychologist, medical, Pediatric, or other specialist reports (e.g., Speech and Language or Occupational Therapy) if completed. Sharing educational history with us prior to a place being offered is essential so that staff can ensure an appropriate assessment of educational need, educational plan and resourcing is in place.
Students are not refused admission based only on their experience of a special education need or disability (SEND) and we give sibling priority for admission to students who experience SEND. Staff follow KHDA guidance and procedures for scenarios where, very rarely, it may not be in the best interests of the child to be placed in our school. This information will be shared with the KHDA, following expected procedures.
Please Note
Admission will be confirmed only on submission of all the documents to the School and will be subject to Knowledge and Human Development Authority approval.
Withdrawal Form
Please click to download the withdrawal form
Terms and Conditions
When a student is offered a place, the required documentation, fully completed should be submitted. We ask that if the admission has been completed during the academic year then a non-refundable payment of one term of the year's school fees has to be paid up front which will then be taken from the total years cost.
If we offer admission for the next academic year then a non-refundable registration fee will be applicable which is adjustable to the first term fees.
There are 3 terms per year. The total amount of fees payable in a year will be collected in 3 installments. Fees will not be collected in the months of July and August.
Reports / Examination results of the defaulters are liable to be withheld.
The school management reserves the right to make any exceptions to the above policy for compassionate reasons, at their discretion.