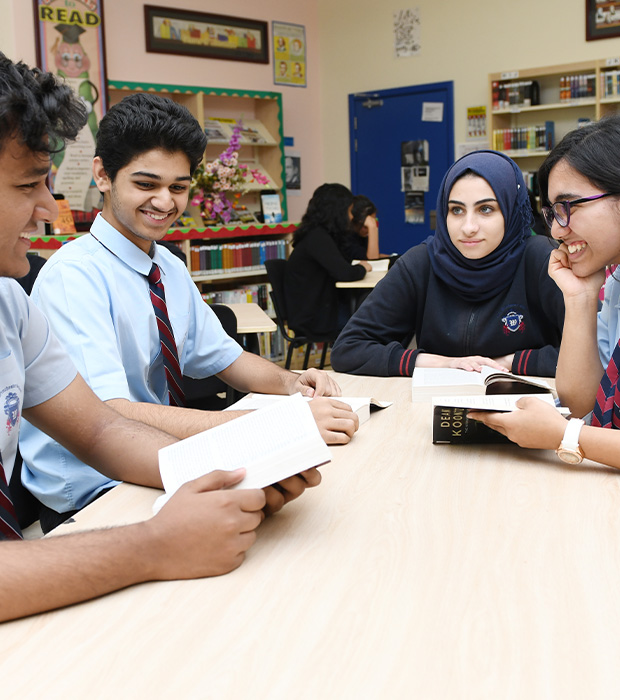 Arabic Department
Know more about out Arabic Department
Head of Department: Mr. Gaber Sayah Hamed
Email ID: gaber.h_win@gemsedu.com
Department Philosophy
We believe we can make the Islamic Education and Arabic language more interesting and fun for our students, and make them able to communicate with the community around them in Arabic. The four skills (reading, writing, speaking, and listening) are a core issue for prime communication .therefore, they are central to children's' cultural and social development. We aim at developing the students' potential and ability to use their literacy skills competently and effectively in their learning.
Department Facilities / Resources
The Department of Arabic Language provides the following facilities:
Arabic dictionary for Non-Arabs prepared by WIN staff.
Students use ICT to enhance their learning like kahoot, Nearpod, TED.ed, Socrative, Edmodo, Comic maker and TextArabic and Zee's Alphabets.
3600 Arabic books available in the library including level readers.
Useful websites to learn Arabic.
Special activities in Arabic after school for students and parents
Library including Arabic books and stories.
Arabic YouTube Channel with many videos for both Arabs and Non- Arabs created by WIN staff.
Arabic magazine created by students and staff.
Key Points from Department Policy
The study of Arabic develops children's abilities to listen, speak, read and write for a wide range of purposes, so using language to learn and communicate ideas with others.
Arab students will study the Ministry of Education curriculum until Year 12.
In each year group, we have two levels in Arabic Advance level and Core level according to the knowledge of our students in Arabic.
We use a variety of teaching and learning styles in Arabic lessons (ICT, group work, pair work, discussions and interactive activities)
We offer Arabic at the IGCSE level and our results in the last 3 years were outstanding for both Arabic A an Arabic B.
Monitoring of the standards of teaching and learning of Arabic and students work:
Speaking and listening activities to develop the language skills.
Enable children to speak clearly and audibly with confidence, fluency and understanding in ways that take account of their learners.
Ensure children have a suitable technical vocabulary to articulate their responses.
Encourage children to listen with concentration and understanding in order to be able to respond appropriately.
Enable children to adapt their speech to a wide range of circumstances and demands.
Develop children's ability to reflect on their own, others' contributions, and the language used.
Enable children to evaluate their own and others' contributions through a range of drama activities.
Develop confident, fluent and independent readers through an appropriate focus on word, sentence and text-level knowledge.
Encourage children to read for enjoyment and to become enthusiastic, reflective readers through contact with appropriately challenging and lengthy texts.
Help children enjoy writing and recognize its value by providing meaningful contexts.
Enable children to with confidence, fluency and accuracy and meaningful in narrative and nonfiction.
Facilitate the use of children's self- assessment and the children's ability to use planning, drafting, and editing to improve their work.
Use classical Arabic in speaking and writing
Having Arabic week across the school and making it creative and innovative, unifying academics, arts and entertainment to boost reading and writing skills. This also links to the Emirati culture.
Assessment Procedure:
We believe that effective assessment to inform planning, value children's work allowing them to be creative and produce best work.
Formative assessment
Assessment for learning for (formative assessment) involves the use of assessment
in the classroom to raise student achievement.
Formative assessment is ongoing and provides evidence of and for progression in learning.
Happens during the learning.
Help to improve learning.
Assists in growing learning.
Is done with learners.
Takes place in class throughout the year.
Summative assessment
Summative assessment is used mainly to measure performance and clearly identifies a standard of student attainment. It is used only at the end of a period of learning.
Summative assessments take place at the end of each term.
Students are given diagnostic feedback after each assignment.
AFL is focusing on an important part of every lesson.
Extra-curricular Activities:
Writing competitions.
Parents clubs whereas Arabs parents are teaching Non-Arabs parents Arabic.
Quran recitation (after school)
Trips
Arabic week
Calligraphy
Spelling bee
Quizzes
Debates
Islamic club after school
Arabic support classes
Parents reading for the students
Emirati reading challenge
Quran competition within the school.
Arabic for FS2 Arabs focusing on the four skills (reading, writing, speaking and listening) for 20 minutes every week
Arabic FS2 Non-Arabs focusing on speaking and listening
Reading competition.
Useful subject specific websites:
- Supreme Educational Council - Collecting Benefits book
- Educational flashlights developing - Social network sites in reading
- Enlightenment of Winchester - YouTube
- General Authority for Islamic Affairs and Endowments - I am Muslim series
- The way of Islam - Sites of picture books
- The teacher Asmaa - Educational portal
- Sand wa Raghd for kids - Site researcher in meanings
- A site of we understand in teaching Arabic- My Arabic letters
- Learn to write in Arabic