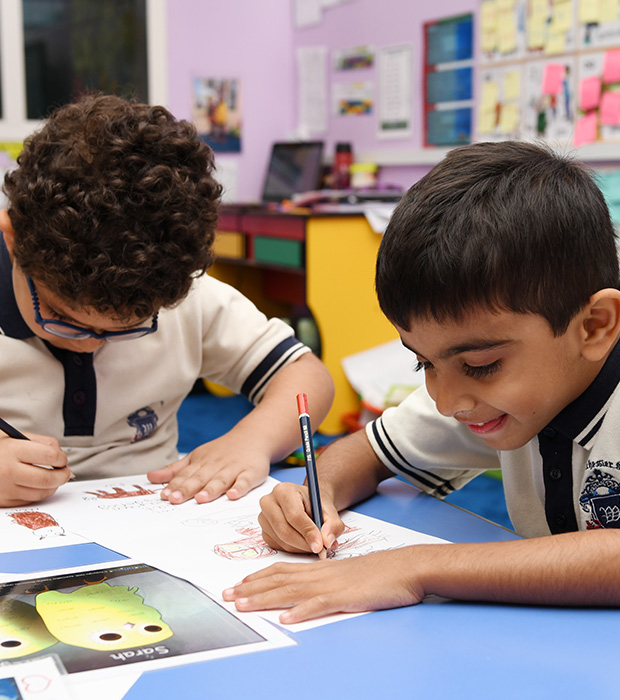 Mathematics Department - Primary
Learn more about our Mathematics Department – Primary
Head of Department: Ms.Mona Mishra
Email ID: [email protected]
Department Philosophy
To develop mathematical skills and concepts as a means of making sense of the world in which we live, while attempting to cater to the multiple intelligences of our students. Our focus is to develop logical thinking, reasoning skills and natural curiosity, thereby encouraging confidence to tackle situations which arise in Maths and other areas of the curriculum.
Department Facilities / Resources
The Winchester school is well equipped with resources for all Maths teaching strands. The library contains a variety of resource books and all teachers and students (FLN and Student planner) have a list of useful websites to support learning and research.
In addition, we also have resources like, Maths Whizz, Collins software and Espresso besides the GLG resources on the school website which are useful support to teachers and parents.
To further develop our mental maths skills we have scheduled rapid recall, maths challenge and mental maths practice happening on a weekly basis.
Key Points from Department Policy
In early years, Maths is an integral part of the learning; it is a specific area of learning and development and will access two aspects:
Numbers
Shape, space & measures
The effective learning happens through finding out and exploring, being involved; enjoy achieving, having their own ideas, making links and choosing ways of doing things in an enabling learning environment.
Maths curriculum planning is based on National Curriculum and National Numeracy Strategy plans. The schemes have been adapted to the local environments. We plan our lessons so that they build upon prior learning.
In KS1 (Y1 &Y2) and KS2 (Y3 – Y6) children will have access to the following programs of study laid down by the National Curriculum.
The seven strands are as follows.
Using and applying mathematics
Counting and understanding number
Knowing and using number facts
Calculating
Understanding shape
Measuring
Handling data.
Cross curricular links with Maths
Emphasizing links between subjects help children make sense of what they are learning. Cross curricular links are crucial to learning as learning depends on being able to make connections between prior knowledge and experiences and new information and experiences. Such connections help us make sense of our world and develop our capacity to learn.
Linking Maths with other subjects in the curriculum provides opportunities to reinforce and extend learning, both in Maths and in the other subjects. It helps to apply and embed skills and knowledge in meaningful and purposeful contexts.
Learning & Teaching style
We encourage creative thinking and critical reasoning to explain and analyze mathematical concepts, with proper emphasis on the relevance of maths in everyday life, hence adding interest and motivation to the subject. Hands on activities and developing entrepreneur skills are a regular feature of our lessons to help students apply their understanding of key mathematical ideas and connect them to real life.
We use varied pedagogical techniques to cater to multiple intelligences in a classroom, to enable the students to develop knowledge and trans-disciplinary skills such as curiosity, research, thinking and communication through perseverance and collaborative science activities.
We encourage ICT in Maths to support student's independent learning and develop critical thinking through using and applying by making cross curricular links with other subjects, real life connections and providing an enabling environment.
Assessment Procedure
Foundation Stage
This will take the form of ongoing formative assessment through observation of both indoor and outdoor activities. The tracker is used effectively to identify and plan the ELG (Early Learning Goal) from the seven areas of development.
KS1 and KS 2
AFL (Assessment for Learning) forms an important part of every lesson. Success criteria are shared with the students before the beginning of the unit. We assess children's work formatively through observations and marking. At the end of a unit of work, a review is done; which is a written assessment. The review provides opportunities to peer mark (PM), self-mark (SM) and identify individual targets informing the next steps forward.
A Summative Assessment is done at the end of each term. Based on the Summative and Formative assessments student's level of attainment are identified, new targets are set and shared with the students and parents. This helps us in tracking the student's progress and attainment. We also use the gap analysis to inform planning for future lessons.
Extra-curricular Activities
Field Trips
Cross curricular activities
Maths Day
Maths Quizzes
Maths Olympics
Inter School Maths competition
Projects
Useful Maths websites