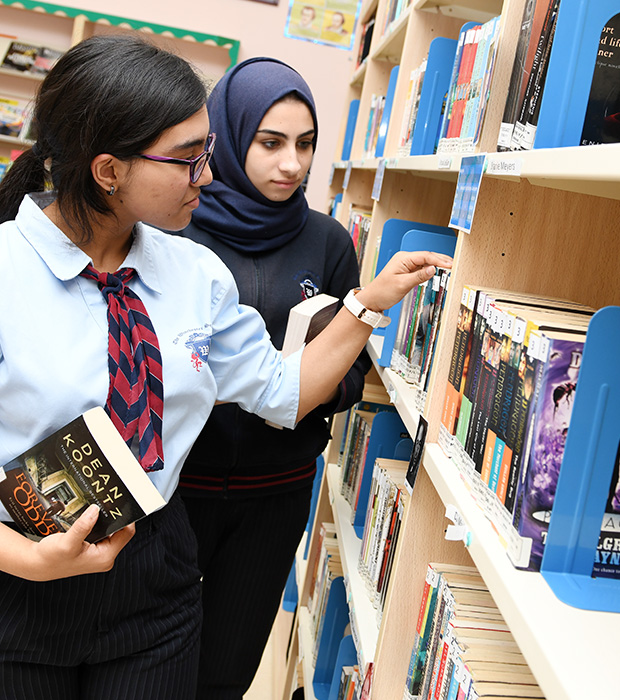 English Department - Secondary
Learn more about our English Department – Secondary
Head of Department: Ms. Akifa Ijaz
Email ID: [email protected]
Department Philosophy
At the Winchester School, the study of English develops children's abilities to listen, speak, read and write for a wide range of purposes, so using language to learn and communicate ideas, views and feelings. It enables children to express themselves creatively and imaginatively, as they become enthusiastic and critical readers of stories, poetry and drama, as well as non-fiction and media texts. Children gain an understanding of how language works by looking at its patterns, structures and origins. Children use their knowledge, skills and understanding in speaking and writing across a range of different situations.
The goals of the English department are:
To foster a love for the language and promote a broader understanding of the subject.
To make English fun and exciting.
To ensure teaching and learning of a high standard is taking place in every lesson.
To ensure every student makes continuous progress through target-setting and diagnostic feedback.
Department Facilities / Resources
The secondary school library has an extensive collection of fiction, non-fiction, magazines and reference books.
All English classrooms have a digital projector and screen. Several English rooms have a Promethean interactive whiteboard.
Teachers have access to CD players, tape recorders, voice recording apparatus, laptops, and interactive whiteboards.
Students have access to the Internet through their classroom computer. Access to the Internet is also available in the library area.
Audio-visual aids are also available from the central storage area.
Key Points from Department Policy
At The Winchester School we use a variety of teaching and learning styles in English lessons, as recommended by the National Literacy Strategy and the National Curriculum Programme of Study.
Our principle aim is to develop children's knowledge, skills, and understanding in English. We do this through daily lessons that have a balance of whole-class and group teaching.
Children have the opportunity to experience a wide range of texts and use a range of resources such as dictionaries, thesauruses and online resources to support their work.
Children use ICT in English lessons where it enhances their learning, as in drafting their work and using multimedia for presentations. Wherever possible we encourage children to use and apply their learning in other areas of the curriculum.
Feedback sheets identifying areas to improve and suggestions on how to improve are kept in student's files.
Term-wise targets are set for individual pupils with feedback at the end of the time period.
Staff are also encouraged to undertake lesson observations of English teaching across the school.
Regular lesson observation cycles are held by the head of English and the head of Teaching and Learning.
Differentiation and catering to multiple intelligences in the classroom is a priority in the English department.
Assessment Procedure:
Key Stage 3 – Formative Assessments forms an integral part of every lesson. Students are encouraged to use the National Curriculum level descriptors to assess their learning and set targets. We assess student work formatively through individual/group projects, individual/group research, class discussions, debates, role plays, cross curricular linking, linking UAE, making real life connections and effective questioning.
Key Stage 4 and 5 – In addition to formative assessments, termly Monthly tests are conducted with a Summative Assessment done at the end of each term. For years 11-13, students do mock assessments before taking their external CIE examinations.
A Summative Assessment is done at the end of term 1 and term 3. Based on the Summative and Formative assessments student's level of attainment are identified, new targets are set and shared with the students and parents.
100% Written assessment for IGCSE, AS and A levels.
Extra-curricular Activities
English Week
Key Stage 4 Debate
Elocution competition
Sixth Form Literature Quiz
Key Stage 3 Spelling Bee
Book clubs for Key Stages 3 and 4
Film club for key stage 3
Shakespeare Fest - Key Stage 3
Useful Subject-specific websites: