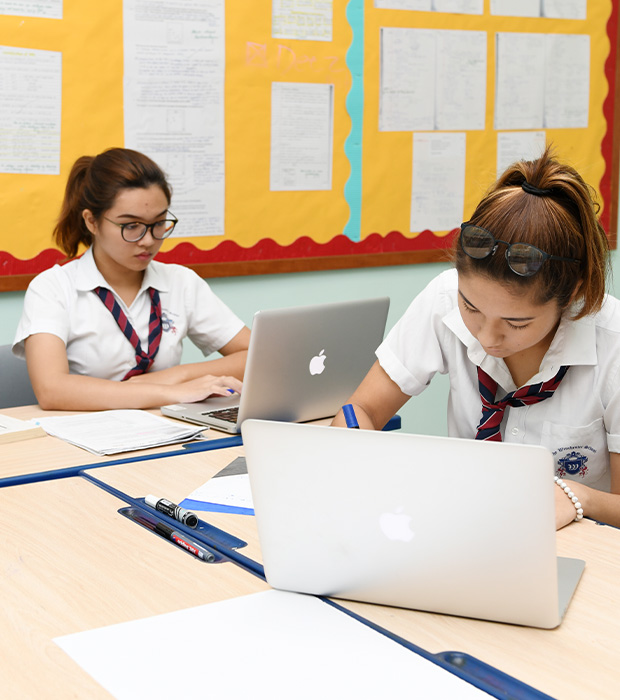 ICT Department
Welcome to ICT!
Head Of Department:- Ms. Shirin Farzana
Email ID: [email protected]

ICT Department Philosophy
We aim to provide a safe, caring environment in which all students can achieve their full potential whilst helping them to become independent learners with the skills and knowledge which will equip them for the future. All students are individuals with their own learning styles and needs, so the curriculum has been chosen to ensure that all pupils are able to access information in order to be successful learners. We also provide a wide range of curricular enrichment opportunities for our students to have valuable experiences. All staff within the department are passionate about the subject and this is apparent in the way that ICT and STEAM lessons are delivered.
Students today are using the immense power of digital media to explore, connect, create, and learn in ways never before imagined. With this power, young people have extraordinary opportunities, and yet they face potential pitfalls, too. Some issues faced includes cyber bullying, digital cheating, and safety and security concerns. These issues underscore the need for students to learn and for teachers to teach digital literacy and citizenship skills. So as to ensure our students are safe and secured online, we have embedded "Digital Citizenship" as part of our curriculum, using the curriculum designed by Common sense media. The link for the curriculum is https://www.commonsensemedia.org/educators/curriculum.
Facilities
The department is composed of 7 specialist rooms designed as ICT rooms (Primary and Secondary ICT Lab) and 2 STEAM Cafes. Different types of STEAM resources are used in lessons such as 3D Simulation room, 3D Printers, Lego, Vex, Sam Labs, WeDo, Little bits, Kubo and different types of simulations. All rooms have the facilities and equipment necessary to give the students an excellent experience of the subject at The Winchester School.
Ks3 Curriculum Brief Summary
At Key Stage 3, the department follows the curriculum for Computing Programmes of Study based on the National Curriculum Of England which is significantly adapted to suit our students and our school. This is taught to Years 7, 8 and 9 by the ICT team, building on the ICT concepts and topics right from primary school. It is designed to offer a full range of differentiated and applied activities in order that all pupils can access ICT regardless of ability and can use it as a tool for a given purpose. Pupils currently have 2 lessons, 1 each for ICT and STEAM per week where all curriculum strands are taught. In addition, ICT is regularly used by teachers throughout the school in their own subject areas further developing the knowledge and skills base of the students.
Ks4 Curriculum Brief Summary
The department is currently following the Cambridge International GCSE. This course results in the pupils attaining an IGCSE in ICT & Computer Science grade from A* to G. This course requires each student to sit 3 external examinations (2 practical and 1 theory) for ICT at the end of Year 11. The examination weighting is 60% practical and 40% theory examination for IGCSE ICT whereas the weighting for IGCSE Computer Science is 60% theory and 40% Problem Solving and Programming. Students in Key Stage 4 currently have 3 lessons of ICT & Computer science per week.
Ks5 Curriculum Brief Summary
The department is currently following the Cambridge International AS (Advanced Subsidiary) in Information Technology and the A2 in Information Technology, Edexcel Btec ICT National level -3 for Year AS/ A level. This course results in the pupils attaining an International AS or/and A2 qualification in Information Technology from grade A to E. This course requires each student to sit 2 external examinations, one of which is practical the other a theory paper at the end of Year 12 for AS Level and the end of Year 13 for A2. The examination weighting is 50% practical and 50% theory.
Curricular Enrichment Opportunities
Some of the enrichment opportunities provided by the department includes Technobizad InterSchool Competition, STEAM Carnival, Code Collaborate Share Coding Competition.We aim to make the ICT curriculum for our students an enjoyable immersive experience. You can be in touch with Head of the Department, ICT- Ms. Shrin Farzana at [email protected] .